HYD Manage a Domain Name
Jump to navigation
Jump to search
In order to manage your domain name(s), you need to log in to Have Your Domain first.
Log In
Enter your domain name, username, and password
Once you're logged in, you should see several sections like the screenshot below: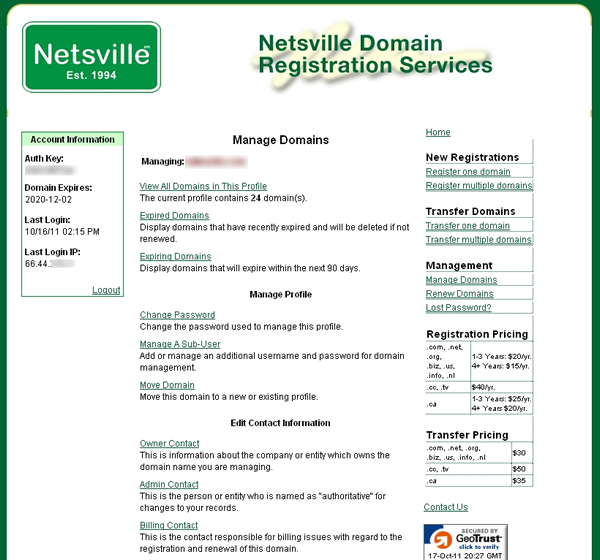 Account Information
On the left, there is a box titled "Account Information".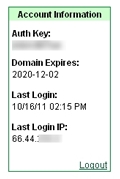 "Auth Key" is required if you ever need to transfer your domain away from Netsville to another registrar.
"Domain Expires" shows when the domain you are currently managing expires.
"Last Login" and "Last Login IP" are useful for your tracking purposes.
Manage Domains
Profile Management
The first line indicates which domain you are currently managing.
"View All Domains in This Profile" will take you to a page containing a list of your domains hosted with Netsville (even if you only have one domain).
"Expired Domains" displays any of your domains that have recently expired and will be deleted if not renewed.
"Expiring Domains" displays any of your domains that will expire within the next 90 days.
Manage Profile
"Change Password" allows you to change the password used to manage this profile.
"Manage A Sub-User" lets you add or manage an additional username and password for domain management.
"Move Domain" will move this domain to a new or existing profile.
Edit Contact Information
This is the most important section of Have Your Domain for most people, as it allows you to manage the contact information required by ICANN for domain names.
Domain Extras
This section is a hodgepodge of necessary features that might be required for your domain.
"Change Lock State" enables or disables domain locking for the current domain.
"Change Auto Renew" enables or disables auto-renewal capability for the current domain.
"Manage DNS Zone File" allows you to edit your DNS zone files. This feature is limited to select customers since it is a powerful tool.
"Cancel Domain Transfer" will cancel a pending domain transfer request.
Manage Nameservers
This section allows you to add, edit, or create a new nameserver to be applicable to the currently managed domain. The labels should be self-descriptive.