HYD Transfer a Domain Name
Jump to navigation
Jump to search
You can transfer a domain name (or multiple domains at once) to or from Netsville with Have Your Domain.
Transfer a domain name TO Netsville
Why should I transfer my domain name to Netsville?
Transferring your domain to Netsville is a good idea because:
We can e-mail you your password
We will notify you when its time to renew your domain name
There will be no problems with name servers!
We can help you with more efficiency
Domain name transfers can usually be completed in five days or less, but some transfers may take up to seven days.
To transfer a domain name to us, you will need the following:
Your domain name must be unlocked
You must be able to access to the email address on file for the Administrative Contact for the domain name
Authorization or EPP code (for .com, .net, .org, .biz, .info, .us, .tv, .name, .de, and .asia domain names only)
Note that the domain name transfer cannot succeed unless the domain name is unlocked, the administrative contact email address is valid, and the correct authorization code is provided.
The transfer domain form will check whether or not your domain is able to be transferred to Netsville. After your domain has been verified as transferable, you will be prompted for payment information, then asked to confirm your transfer request.
You have 30 days from the transfer purchase date to complete the transfer. If the transfer fails, you may resubmit your transfer request after correcting the problem causing the failure, and then re-try the transfer during that 30-day window.
How to transfer your domain name to Netsville
Transfer a domain name AWAY FROM Netsville
In order to transfer your domain name(s) away from Netsville, you will need to unlock the domain and retrieve the authorization code.
Log In
Enter your domain name, username, and password
Unlock the domain
THIS IS THE MOST IMPORTANT STEP!
In order to protect your domain(s) against unauthorized transfers, Netsville puts a "lock" on your domain by default. You need to disable this lock in order to transfer the domain away from Netsville.
Once you've logged in to Have Your Domain for the domain you want to transfer, go down to the section labeled "Domain Extras"
Click the "Save State" button
Your domain is now unlocked. You will need the authorization code (see section below) to give to the other registrar.
Finding the Authorization Code
On the left is a box titled "Account Information".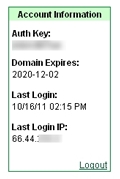 The "Auth Key" is the first value in this box and is what you need.
Note: The Auth Key is case sensitive!
The Other Registrar
As every registrar is different, this is only a general overview of what to do with the Auth Key from Netsville. The other registrar should have a "transfer domain" link somewhere that prompts you for the domain name and authorization code. They might call the authorization code any of the following:
Authorization Code/Key
AuthInfo Code
Auth-Info Code
EPP Code/Key
EPP Authentication Code
EPP Authorization Code
Transfer Code/Key
Transfer Secret
Note: The authorization code is case sensitive!