SpamExperts Spam Panel
Jump to navigation
Jump to search
Using the SpamExperts Spam Panel
These instructions are based on our own observations and the Spam Panel Email Level Guide. What we describe below are key features our customers will need to get work done. To dig into more esoteric features, you can hit the guide or contact Netsville directly.
The Full Spam Panel Guide
Spam Panel Email Level Guide (PDF)
Login URL
 https://login.antispamcloud.com

Login
Use your full email address as the Username and your email password. Then hit SUBMIT.

If Login Doesn't Work
Hit the Retrieve log-in link button.

Your browser should show https://login.antispamcloud.com/lostpassword.php at the top.

Type in your email address.
Hit SUBMIT and you should be greeted with an email has been sent message.
You should soon receive an email message with a temporary link inside. This will give you direct access to your quarantine account where you can reset the password.
Main Dashboard
Once you login, you'll be greeted with this main dashboard page.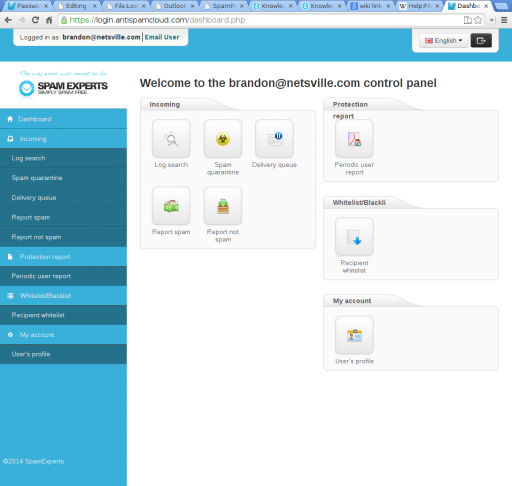 We only focus on select actions inside the Incoming group of icons, My account, and Whitelist/Blacklist sections.
Incoming tab
Click this icon to view email messages in your spam quarantine area.
Click this icon if you want to view a log of all your incoming messages. This includes spam and non-spam. Helpful for troubleshooting where mail has gone / if you've received it.
Click here to report a message that should have been marked as spam. SpamExperts will use what you upload to help catch similar messages.
If a message was marked as spam, you can use this to help whitelist similar messages.
The Delivery Queue really shouldn't be used during regular interactions with the spam filter. If you see a message listed here and have a question about it, contact Netsville.
Whitelist/Blacklist tab
| | |
| --- | --- |
| | This page is for setting your account to let all email pass through the filter. When 'whitelisted', all emails directed to your account will not be scanned by the filter. |
My account tab
| | |
| --- | --- |
| | This page is for changing your password. You are also brought directly to this page if you click the temporary link sent to you via the Retrieve login-in link process. |
Spam Quarantine
Here is where you'll spend most of your time. Below is a screenshot of the actual quarantine area with messages.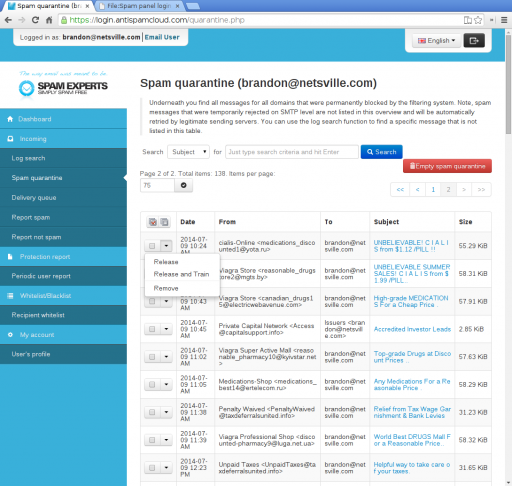 Message Detail
To view an actual message, click the SUBJECT which should be in blue.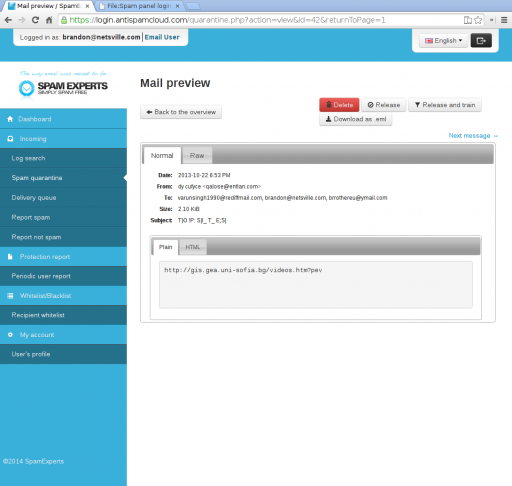 From here you can view the raw headers (by clicking the RAW tab). You can also safely view this message as raw text or HTML without worrying about getting infected by the contents.
Up top is where you can take some action on the message such as DELETE, RELEASE, RELEASE AND TRAIN, or DOWNLOAD AS .EML
Message Detail Actions
These should be self-explanatory. However, there are two that we should highlight here.
RELEASE AND TRAIN 

While releasing sends the quarantined message to your inbox, this action will take the additional step of telling SpamExperts about it. The message will be used train the system to consider similar messages as non-spam.

DOWNLOAD AS .EML 

Use this action to save a copy of the quarantined message to your local machine. Later, you can upload this message to Report As Non-Spam.
Log Search
Click this button if you want to trace where a message has ended up. A record of recent messages will show up here, including those that have not been marked as spam (ACCEPTED). You can use this to confirm message delivery. Some messages marked as REJECTED won't show up in the quarantine area. The classification column may even show a reason why which is helpful for debugging.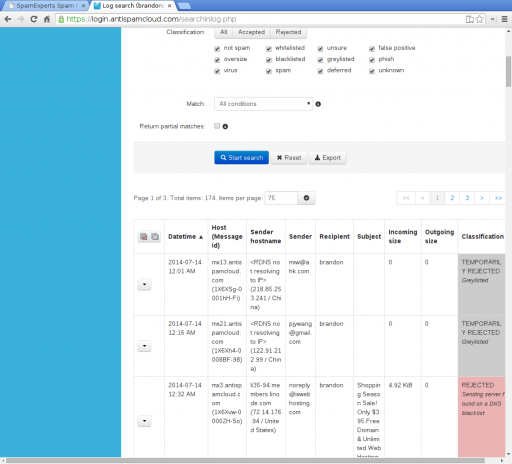 There's also the concept of GREYLISTING which you can read about here: https://my.spamexperts.com/kb/66/Greylisting.html. These are messages from never-before-seen email addresses and hosts. These messages will be delayed for a few minutes. While this may appear inconvenient at first, the amount of spam they block is tremendous. With so many randomly-generated FROM addresses from an ever-changing pool of hacked machines, GREYLISTING stops spam with virtually no effort. It's an important feature of this spam service that we appreciate.
Report Spam / Non-Spam
These screens essentially look the same. You can either drag-n-drop .eml files directly onto the browser (if supported), or simply choose to upload them one-at-a-time. You'll get a notice back if the upload was successful.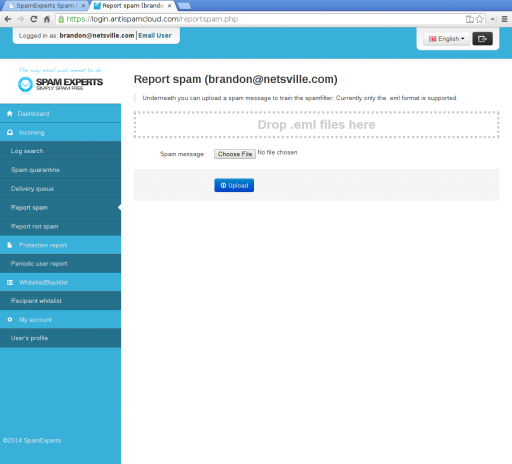 Change Password
This screen is where you change your password. You are also brought here after clicking the link inside the email generated from the Retrieve Log-in Link process. This password is only used to access the quarantine area. There is also the option to use Two-step Authentication which is described on this page.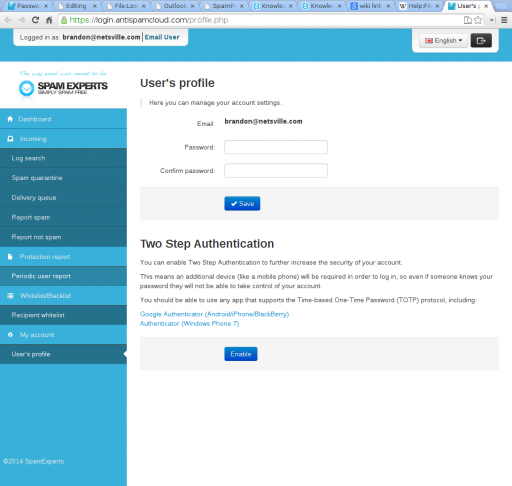 Logout
To logout of the quarantine area, click the black button at the top right of the screen:

.
Then it will pop up this screen to confirm.