Webmail Administration
Jump to navigation
Jump to search
If Netsville hosts your email, you can change your password, set up a vacation (auto-reply) message, and set up mail forwarding.
Log In
To access your webmail administration area:
Go to https://securemail.netsville.com and choose the bottom graphic marked "Webmail Administration".
Enter your email address and password
Click the "Log In" button

Domain Managers
If you are the domain manager (or CEO, or otherwise in charge of email accounts), you can add/edit/change email addresses for your domain name.
Log in (see above) with:
Username: "postmaster"
Domain: your domain
Password: the password for the postmaster account
Regular User
Everyone who has an email account on a domain can change many things about their account. For example, you can:
change your name
change your password
set up a vacation message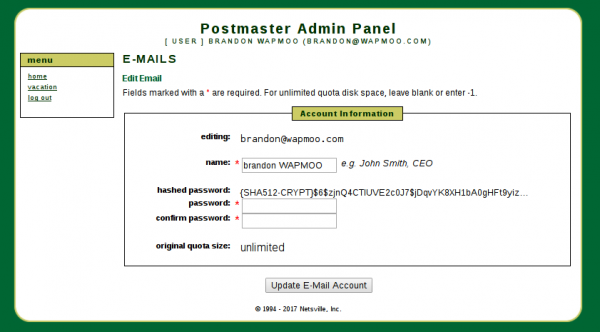 Vacation Message
Enable Vacation Message
To enable a vacation message, click vacation on the left-hand menu. The page will then look like this below: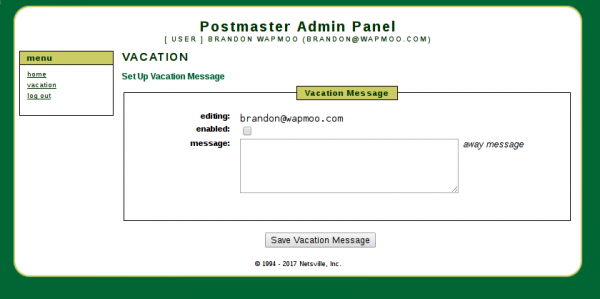 Type in your message in the message field. If this is the first time, the enabled checkbox will automatically be selected when you enter text.
Hit the Save Vacation Message button

This indicates your vacation message has been saved and enabled!
Disable Vacation Message
Uncheck enabled and clear all the text from the message field.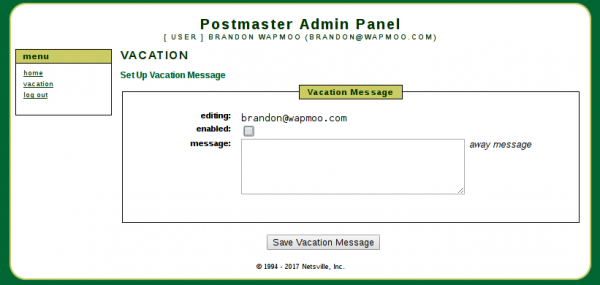 Hit the Save Vacation Message button

The system will indicate that your vacation message has been disabled.